[vc_row][vc_column][vc_column_text]Search the homes for sale in Whittier Oaks, Freehold Township. When you're ready to either buy or sell a home here, call Bunny and Art Reiman – Realtors.
Homes For Sale in Whittier Oaks
Whittier Oaks is located east of Route 9 near the Marlboro border. The homes for sale in Whittier Oaks are close to public transportation, shopping, dining and, well, everything. Children will attend school in the highly rated Freehold Township system. In fact, Applegate School, which educates students in grades K-5, is located in the midst of Whittier Oaks.
The Homes
The homes for sale in Whittier Oaks were built in the 1970's. Most of the homes are two story colonials with 3,4 or 5 bedrooms and a two car garage. Many of these homes also have a basement.  Lot sizes are generally about 5/8 acre, or 25,000 square feet. Homes in Whittier Oaks typically sell for more than $600,000..
Search for all single family homes for sale in Freehold Township
Financing
Since the homes are single family, detached, low cash down payment mortgages are available by using VA or FHA financing.
Education
Students from Whittier Oaks will attend the highly rated schools which comprise the Freehold Township school district. Upon reaching high schools, students have options. They can attend one of the six schools in the Freehold Regional High School District .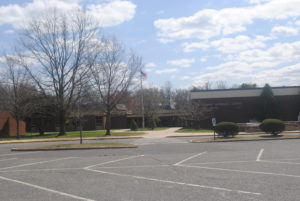 Each school offers unique programs such Culinary Arts & Hospitality Management and Humanities -to name a few.
In addition, students can also attend one of the 5 full time schools in the Monmouth County Vocational School District. Career training is offered in the fields of Allied Health & Science, High Technology, Communications, Bio Technology and Marine Science & Technology. Additionally,  shared time courses are offered in Marine Trades and Automotive Technology – as examples.
Ready to Buy or Sell?
To see the homes for sale in Whittier Oaks Freehold Township, call us. Call Bunny and Art Reiman – Realtors. We've been residents of Freehold since 1982. We've raised our family here and we now have three generations of our family living in Freehold. As a result, we're very familiar with the area. We've helped hundreds of families find their new homes in the area, and we can help you too!
Are you looking for Freehold Township Active Adult Communities?[/vc_column_text][/vc_column][/vc_row]
Freehold Township – Colonial Acres
Recently Sold Homes
| MLS # | Status | Address | Price | Complex/Subdivision | Bedrooms | Total Baths | List Price | Sold Price | Sold Date | Days On Market | Zip Code | |
| --- | --- | --- | --- | --- | --- | --- | --- | --- | --- | --- | --- | --- |
1
22103454
C
8 Polo Club Dr
$755,000
Polo Club
4
2.1
699,999
755,000
04/23/2021
7
07728
2
22106971
C
1 Horse Shoe Ln
$777,500
Polo Club
4
2.1
719,000
777,500
05/10/2021
4
07728
3
22110509
C
68 Polo Club Dr
$850,000
Polo Club
7
4.1
824,900
850,000
06/23/2021
12
07728
In order to continue, you will possibly be asked to type in HOMES BUY SELL WHITTIER OAKS>
Homes for sale in Whittier Oaks Freehold Township
Mortgage rates on 6/19/21 are holding steady at around 3.0%. Use this low cost financing to purchase a new home today!
After all, in the past 8 months, the median sale price here was $565000, which is about equal to 1123100 Israeli new shekel.
Find the homes for sale in Whittier Oaks Freehold Township. Search for Freehold NJ real estate. Learn about houses for sale in freehold. 07728. Find houses for sale in this highly rated school system. Whittier Oaks is within walking distance of the New York bus on Route 9.