Towne Pointe – Manalapan
Search for the Towne Pointe Manalapan townhouses for sale. Whether you're buying or selling, or both, call us – Realtors Bunny and Art Reiman. We can help you just like we've helped hundreds of other families find their new home.
Looking for more Manalapan condos?
Call the Realtors, Bunny and Art Reiman, at 732-598-7700 to see the Towne Pointe Manalapan Condos For Sale
About Towne Pointe Manalapan Condos For Sale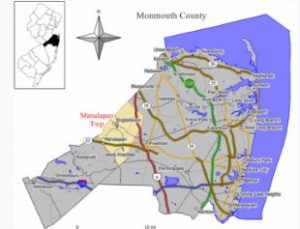 Town Pointe Manalapan is condo / townhouse community. In 1990, 120 homes were built in Town Pointe. Each of the  homes has either two or three bedrooms. The two bedroom homes are either upper or lower level units, while the three bedroom homes are two story townhouses. Sorry, but there are no garages in this community.

Located off of Tenant Road. in Manalapan, shopping and dining are nearby. Further, the Jersey Shore is a short drive away.

There is a monthly fee from the homeowners association. Lawn maintenance, snow removal and common area maintenance are handled by the association, in addition to exterior maintenance of the buildings. In fact, this community has a swimming pool for residents. And, your pets are welcome in Towne Pointe. In 2019, only 4 homes were sold in this community.
Financing in Towne Pointe
Because FHA financing is not approved in Towne Point, purchasing a home with an FHA loan is not possible. Other financing, however, is available to qualified borrowers that do offer low down payment terms. Additionally, recent changes in FHA guidelines allow for possible one unit FHA approvals.Please call 732-598-7700 to discuss.
Transportation
Commuters will love living in Towne Point Manalapan because of the location. It is within walking distance to Route 9 bus service to New York and local points. Additionally, easy access to major roadways is available.
Education
Students from Towne Pointe Manalapan in grades kindergarten through eighth will attend schools in the Manalapan Englishtown Regional School District. Students from Englishtown also attend these schools.
High school aged students will go to Manalapan High School, which is one of the six high schools in the highly rated Freehold Regional High School District.  And each of these schools offer different specialized courses. Motivated and talented students may apply to attend any of these school through a competitive application process. SAT scores across the school district consistently are higher than both national and state averages. 87% of graduating students continue their educations at the college level.
Some of the available programs offered are Law Enforcement & Public Safety and Medical Sciences.
Students entering high school also have the option of applying to one of the five high schools in the Monmouth County Vocational School District. These schools provide educations in Allied Health and Science, High Technology and other specialized fields. Shared time courses are also offered. Samplings of these courses are Cosmetology and Nursing Assistant.
In addition, there are also private schools in the area.
Looking for a new home?
Call 732-598-7700 to see the Towne Pointe Manalapan Condos For Sale Let Bunny and Art Reiman – Realtors – help you find your new home!
Looking for an Active Adult Community?
Recently Sold Homes
During 2022, 5 condos were sold in Towne Point. Furthermore, the average sale price was $348200.