Shrewsbury Condos For Sale
Search for the Shrewsbury condos for sale. To either buy or sell a Shrewsbury home, call us – Bunny and Art Reiman – Realtors.
Search Condos in Nearby TownsCustom Search
Call 732-598-7700 to see the Condos For Sale
About Shrewsbury Condos For Sale
When you search for condos for sale in Shrewsbury, you find them in two towns, Shrewsbury  Boro and Shrewsbury  Township.
Shrewsbury Boro has one community of condos, Ivy at Shrewsbury. Shrewsbury Township has two complexes of condos in Shrewsbury, which are Vail Homes and Shrewsbury Woods.
Ivy at Shrewsbury has sixty three condos, each has either two or three bedrooms. In addition, all of the  condos have a two car garage. Construction started on these condos in 2011, and there are three floor plans in the Ivy at Shrewsbury. In fact, the home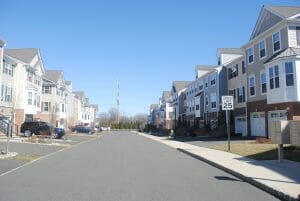 sizes range from 1793 square feet to 2179 square feet. Also, you'll find that some of these condos in Ivy at Shrewsbury have a finished basement.
The condos that are located in Shrewsbury Township are older, lower priced homes. These condos can have one, two or three bedrooms. However, there are no garages in the homes.
Transportation
Commuters appreciate the area since all of these homes are located minutes away from the train station in Red Bank. All are near shopping and dining, and the Garden State Parkway is easy to get to at Exit 105. The Jersey Shore beaches are also nearby.
Schools
Students from Shrewsbury Boro who are in grades pre-kindergarten through eighth grade will attend the Shrewsbury Borough School District. When students enter high school  the students will go to Red Bank Regional High School in Red Bank.
Students from Shrewsbury Township who are in grades kindergarten through eighth will attend the Tinton Falls School District. Once they enter high school they will attend Monmouth Regional High School.
The Monmouth County Vocational School District also accepts students into it's system of magnet schools. Specialized courses are available in fields such as Bio Technology and Marine Science & Technology. Also, shared time courses in Culinary Arts and Dental Science are available, among others.
Ready to Move?
When it's time to either buy or sell a home, call us. Call Realtors Bunny and Art Reiman.
Looking for an Active Adult Community?
Recently Sold Condos
During 2021, 5 condos were sold in Shrewsbury Boro. Furthermore, the average sale price was $515280.
Mortgage rates are near the all time low. As of 12/6/21, the going rate is about 3.0%. In addition, the rate in Bhutan is 7.75%..