Manasquan Homes For Sale
Find homes for sale in Manasquan. If you're ready to either buy or sell a home here, call Bunny and Art Reiman – Realtors. We can help.
Call 732-598-7700 to see the homes in Manasquan.
About Manasquan Homes For Sale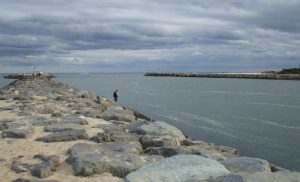 Most of the Manasquan homes for sale are detached single family homes. These homes in Manasquan are usually in the price range from $500,000, however prices can go to well over $1 Million. This is not surprising, given the homes in Manasquan are located close to the ocean. Manasquan also has a number of condos in town.
Manasquan is a small town in southern Monmouth County, measuring 2.5 square miles. The beachfront is a very popular area with surfers due to the jetty protruding into the Atlantic Ocean at the Manasquan inlet, which enlarges the waves. The inland portion of the Intracoastal Waterway terminates (or begins) in the Manasquan Inlet.. The Manasquan Inlet connects the Atlantic Ocean with the Manasquan River, and was dug in the 1920's. There are many marinas along the Manasquan River. 
As do many Jersey Shore towns, the population increases during the summer months. The population at the time of the 2010 Census was 5,897.
In 2008, New Jersey Monthly magazine ranked Manasquan as its 22nd best place to live in its rankings of the "Best Places To Live" in New Jersey. There is a thriving downtown area with many small businesses and restaurants.
Transportation
Manasquan is a great place if you're a commuter. Why? Because the North Jersey Coast Line provides rail transit to New York City at the Manasquan station. Bus service is also available.
Education
The Manasquan Public Schools offer education to students in grades K-12. There is one school for K-8.
When the students move on to high school, they will go to The Manasquan High School. This school also accepts student from other small, nearby towns. 
Students have another option when they enter high school because they may also apply to one of the five high schools in the Monmouth County Vocational School District. Specialized courses are available in fields such as Marine Sciences and High Technology, to name a few. Also part time courses in various automotive trades and Patient Care/Medical Assisting are available, among others.
 There are also private schools in the area.
Time to Move?
Call us today to see the homes for sale. Call Bunny and Art Reiman – Realtors.
Looking for an Active Adult Community?
Recently Sold Homes in Manasquan
During 2022, 80 single family homes were sold in Manasquan. In addition, the average sale price was $1,222,614.