Search for Marlboro homes for sale and homes in Marlboro. When it's time to move, let us help you. Call us, Bunny and Art Reiman – Realtors. Whether you're a buyer or a seller, or both, we can help you just like we've helped hundreds of other families find their new home.
Marlboro Homes For Sale
Search Homes in Nearby Towns Custom Search
Call 732-598-7700 to see the homes in Marlboro.
About Marlboro Homes For Sale
Marlboro formed in 1848 using portions of Freehold. The town is named after marl , which was an early form of fertilizer. The first industry of Marlboro was the export of marl. Marlboro was the scene of a number of skirmishes during the Revolutionary War. During that time, Beacon Hill, the second highest point in Monmouth County, served as one of 23 state-wide warning beacons. These beacons were used to signal local militia of a British invasion.
The Marlboro Homes
Homes in Marlboro prices start at the starter home level however upscale detached single family homes  can easily exceed $1 Million in Marlboro. Marlboro homes are mostly single family homes, however there are also four main condo complexes in town. A section of Marlboro, Morganville, has a separate zip code, 07751. This section is in the northeast corner of Marlboro.
Demographics
The 2010 Census showed there were 40,191 people living in Marlboro, in addition there are over 13,000 housing units.  A section of Marlboro called Morganville is in the northern part of Marlboro, and in fact, Morganville has it's own post office and zip code. The Census also showed that the median household income was $130,400.
Schools
Education for K-8 students is provided by the Marlboro Township Public School District, which has 1 pre-school, 5 elementary schools and also 2 middle schools. When students enter high school they will attend a school in the Freehold Regional High School District.
There are six high schools in the Freehold Regional High School District. The schools are Marlboro, Freehold Township, Colts Neck, Freehold, Howell and also Manalapan. Students from Marlboro homes will attend the high school according to boundaries set by the district. And most, but not all, will attend the Marlboro High School.
The six high schools each offer a special curriculum for talented and highly motivated students. Any student in the Freehold Regional High School District is eligible to enroll and there is a competitive admission process. Some of the offered programs are Global Studies and Culinary Arts & Hospitality Management – among others.
SAT scores consistently exceed state and national averages in all six high schools. Not surprisingly, more than 87 percent of the district's students pursue higher education.
Students also have the option of attending one of the five full time schools in the Monmouth County Vocational School District. Educations in the fields of Allied Health and Science, High Technology, Communications, Bio Technology and Marine Science & Technology are offered. Additionally, there are numerous shared time programs offered. Some of the offered programs are construction trades and Plumbing & Pipefitting – among others.
There are also many private schools in the area.
Transportation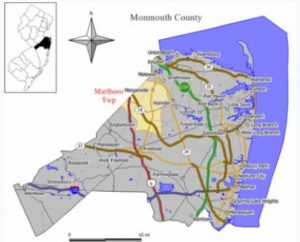 Commuters love living here. That's because it's easy to get to work, and there are so many options. Many homes in Marlboro are within walking distance to the buses on the Route 9 corridor. If you're farther away, there are Park and Ride lots. However, many prefer to take the train to New York. New Jersey Transit supplies rail service from the Matawan station.
And if you're not a commuter to New York, local bus service is also available on Route 9. All major roadways in the are are also easily accessible.
Are You Ready?
When it's time to either buy or sell a home, call us. Call Bunny and Art Reiman – Realtors. Because, whether you're buying or selling, we can provide you with the highest levels in real estate expertise and professionalism. Do like hundreds of our clients have done and contact us to guide you through the process!
Looking for an Active Adult Community?
The Real Estate Market
In 2020, 416 homes were sold in Marlboro. Also, $641728  was the average sale price.
Recently Sold Homes
| MLS # | Status | Address | Price | Complex/Subdivision | Bedrooms | Total Baths | List Price | Sold Price | Sold Date | Days On Market | Garage | County | Minimum Age | Basement | |
| --- | --- | --- | --- | --- | --- | --- | --- | --- | --- | --- | --- | --- | --- | --- | --- |
1
22104963
C
181 Gordons Corner Rd
$465,000
Whittier Oaks
4
2.1
449,900
465,000
04/07/2021
9
Y
Monmouth
Y
2
22018973
C
261 Tennent Rd
$490,000
None
4
1.1
500,000
490,000
04/06/2021
170
Y
Monmouth
0
Y
3
22100486
C
7 Dickinson Ln
$550,000
Whittier Oaks E
4
2.1
575,000
550,000
04/15/2021
12
Y
Monmouth
Y
4
22101172
C
3 Rachael Dr
$571,000
The Woods
3
2.1
564,999
571,000
04/01/2021
7
Y
Monmouth
Y
5
22101181
C
19 Longfellow Ter
$605,000
Whittier Oaks
5
3.1
570,000
605,000
04/08/2021
6
N
Monmouth
Y
6
22101357
C
20 Nashua Dr
$655,000
Paddock Club
4
3.1
600,000
655,000
04/01/2021
5
Y
Monmouth
Y
7
22105068
C
12 Elisa Dr
$655,000
Ryan Meadows N
4
2.1
599,999
655,000
04/12/2021
9
Y
Monmouth
Y
8
22102669
C
4 Rockwell Cir
$740,000
Country Estates
4
2.2
744,900
740,000
04/09/2021
12
Y
Monmouth
Y
9
22104306
C
11 Plowshare Ct
$753,000
Parc Chateau
4
3
699,900
753,000
04/15/2021
3
Y
Monmouth
N
10
22102526
C
3 Old Scots Rd
$799,000
The Hamptons
5
2.1
799,000
799,000
04/05/2021
15
Y
Monmouth
Y
11
22104294
C
319 Congressional Dr
$1,115,000
Georgetown Ests
5
3.1
989,000
1,115,000
04/16/2021
6
Y
Monmouth
Y
12
22024087
C
18 Clymer Ct
$1,170,000
Castle Point
6
5.1
1,215,000
1,170,000
04/01/2021
175
Y
Monmouth
Y
Marlboro Homes
Find a Realtor near me. mortgage rates remain low. as of 4/13/21 the rate for a 30 year mortgage is in the vicinity of 3.125 %. Conversely, the rate in Greece is 4.5%. To proceed, you'll need to enter BUY SELL MARLBORO HOMES . Typically, homes sell for about 2246000 Guinean franc.