Find Holmdel Condos For Sale.
Holmdel Condos For Sale
Search Condos in Nearby TownsCustom Search
Call 732-598-7700 to see the condos in Holmdel.
About Holmdel Condos For Sale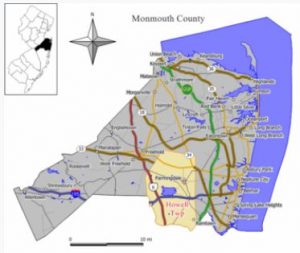 Holmdel Condos For Sale can be found in eight different condo / townhouse complexes. You can find Holmdel condos offering everything from 2 bedroom starter homes to 3,000 sq ft luxury homes. All of the condos in Holmdel offer convenient access to shopping, dining, recreation, transportation and of course, the Jersey Shore.
You can find Holmdel condos for sale in Beau Ridge,
 Palmer Square, The Orchards  among other complexes. The homes in The Orchards are FHA Financing approved, as a result, you can purchase those homes with a
low down payment. Because FHA financing is not approved in other Keyport condos, purchasing a home with an FHA loan is not possible. But qualified borrowers are able to get financing that requires a low down payment from other sources. Call me at 732-598-7700 to discuss.
The 2010 Census reported that the population of Holmdel was 16,773. There were 5,584 households. The median household income in Holmdel was $140,533. Holmdel has a total area of 18.115 square miles, This  includes 17.896 square miles of land and 0.219 square miles of water.
Transportation
Commuters love Holmdel because rail service to New York is available at Middletown or Hazlet. However, some choose the short ride to take the Sea Streak Ferry. Either one is a good choice.
Schools
Many people purchase a Holmdel condo because of the excellent public schools. But there are also private schools in the area.  Students from Holmdel can also attend private schools in the area. Located in Holmdel are St Benedict (K-8) and St John Vianney High School. Nearby in Tinton Falls is Ranney School, a K-12 preparatory school and also Christian Brothers Academy in Middletown.
Public School students in Holmdel will attend the Holmdel Township Public Schools. Village Elementary School serves grades Kindergarten through three, Indian Hill School has grades four through six and William R Satz School serves grades seven and eight.  When students enter high school they will attend Holmdel High School. Holmdel High School recently was the 11th-ranked public high school in New Jersey. It was also ranked as Number 426 nationwide.
When students enter high school they may also apply to one of the five high schools in the Monmouth County Vocational School District. Specialized courses are available in fields such as high technology, computer science, marine studies and biotechnology. Also courses in the medical and science fields are available, among others.
Call 732-598-7700 to see the Holmdel Condos For Sale
To see Holmdel condos for sale or condos in Holmdel call 732-616-6226
Looking for an Active Adult Community?
Would you like to see what condos have recently sold for?