Search the Holmdel Condos and Townhouses For Sale.
When it's time to move, let us help you. Call us, Bunny and Art Reiman – Realtors. Whether you're a buyer or a seller, or both, we can help you just like we've helped hundreds of other families find their new home.
Call 732-598-7700 to see the condos in Holmdel.
About Holmdel Condos For Sale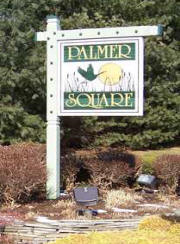 Holmdel Condos For Sale can be found in eight different condo / townhouse complexes. You can find Holmdel condos offering everything from 2 bedroom starter homes to 3,000 sq ft luxury homes. All of the condos in Holmdel offer convenient access to shopping, dining, recreation, transportation and of course, the Jersey Shore.
You can find Holmdel condos for sale in Beau Ridge,  Palmer Square, The Orchards  among other complexes.
The 2010 Census reported that the population of Holmdel was 16,773. There were 5,584 households. The median household income in Holmdel was $140,533.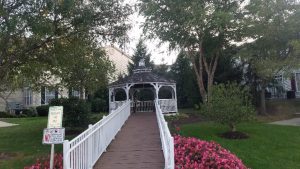 The area consists of gentile rolling hills. Holmdel has a total area of 18.115 square miles. This  includes 17.896 square miles of land and 0.219 square miles of water.
Financing
The homes in The Orchards are FHA Financing approved, as a result, you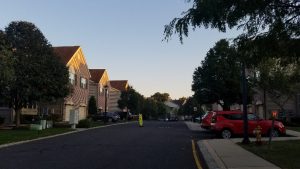 can purchase those homes with alow down payment. Because FHA financing is not approved in other Holmdel condos, purchasing a home with an FHA loan is difficult, but not impossible. But qualified borrowers are able to get financing that requires a low down payment from other sources. Call me at 732-598-7700 to discuss.
Looking for an Active Adult Community home?
Transportation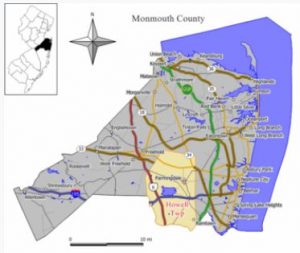 Commuters love Holmdel because rail service to New York is available at the Middletown or Hazlet, New Jersey Transit train stations. However, some people choose the short ride to take the Sea Streak Ferry. The ferry is available in Highlands, Atlantic Highlands or Sandy Hook. Either one is a good choice.
Bus service is also available, both on local routes and to New York.  There's easy access to all local major roadways including the Garden State Parkway. The nearest exit to Holmdel is exit 114 in Middletown.
Education
Many people purchase a Holmdel condo because of the excellent public schools. But there are also many top rated private schools in the area.  Students from Holmdel can also attend private schools in the area. Located in Holmdel are St Benedict (K-8) and St John Vianney High School. Nearby in Tinton Falls is Ranney School, a K-12 preparatory school. Christian Brothers Academy is located nearby in Middletown. And my wife would kill me if I didn't include her Alma Mater, Red  Bank Catholic.
Public School students in Holmdel will attend the Holmdel Township Public Schools. This school district has a student population of more than 3,000 students and has a student-teacher ratio if 12 to 1. Village Elementary School serves grades Kindergarten through three, Indian Hill School has grades four through six and William R Satz School serves grades seven and eight.  When students enter high school they will attend the highly rated Holmdel High School. Holmdel High School recently was the 74th-ranked public high school in New Jersey. It was also ranked as Number 1746 nationwide.
When students enter high school they may also apply to one of the five full time high schools in the Monmouth County Vocational School District. Specialized courses are available in fields such as high technology, communications , health and science, marine studies and biotechnology. Also courses in many fields, such as assorted medical fields and
various building trades are available on a part time basis – to name just a few.
Recreation, Dining and Shopping
Holmdel's parks encourage healthy habits at every age. They offer fields and trails for your use  whether you play organized sports, bicycle or hike for miles in the woods, or just play catch with your children. The parks are a place to meet new friends, share meals and provide a safe place for your children to play.
In addition, the Monmouth County Park System provides an extensive collection of parks. Ride bicycles or walk on the Henry Hudson Trail. Enjoy golfing on one of the eight public golf courses in the county park system. Dorbrook Park in Colts Neck has a splash pad for the children. And don't forget about the beaches at Sandy Hook!
For those who like to visit New York, train service is nearby. Or enjoy live theater in Red Bank, at the Count Basie Theater or Two Rivers Theater. Live concert for big name entertainers is available in Holmdel at the PNC Art Center. Or visit Pier Village in Long Branch. If you enjoy horse racing, Freehold Raceway has harness racing, while Monmouth Park in Oceanport has thoroughbred racing.
Many places are available to shop. Choose from stores at the many shopping plazas on Route 35, or small boutique stores. Three major malls are within a 30 minute drive in Woodbridge, Eatontown and Holmdel. Fine dining, as well as casual fare are easily accessible.
Ready to Move?
When you're ready to either sell or buy a home in Holmdel call us. Call Bunny and Art Reiman – Realtors. Let us help you find your new home, just like we've helped hundreds of other families find their new home
Recently Closed Holmdel Condos
| MLS # | Status | Address | Price | Complex/Subdivision | Bedrooms | List Price | Sold Price | Sold Date | Days On Market | New Construction | Total Baths | Basement | |
| --- | --- | --- | --- | --- | --- | --- | --- | --- | --- | --- | --- | --- | --- |
1
22114199
C
29 Alpine Rd
$375,000
The Orchards
2
399,999
375,000
07/06/2021
11
N
2.1
N
2
22114714
C
105 Northampton Dr
$450,000
Holmdel Mews
3
419,000
450,000
07/13/2021
5
2.1
Y
3
22117649
C
52 Duxbury Ct
$520,000
Palmer Square
3
479,000
520,000
07/23/2021
7
2.1
Y
During 2020, 98 condos / townhouses were sold in Holmdel, Additionally, the median sale price was $452000.
If you're a buyer, expect a mortgage rate of about 3.0% or less on 7/30/21. with interest rates this low, how can you not buy a home? In the past 9 months, the median sale price of a condo was $445000, which is approximately 907600 Yemeni rial . To continue, please type in BUY SELL HOLMDEL CONDO.