Freehold Pointe Freehold Township
[vc_row][vc_column][vc_column_text]Search the homes for sale in Freehold Pointe, Freehold Township. In order to either buy or sell, call Bunny and Art Reiman – Realtors in Freehold.
Whether you're a buyer or a seller, or both, call us – Realtors Bunny and Art Reiman. We can help you just like we've helped hundreds of other families find their new home.
About Freehold Pointe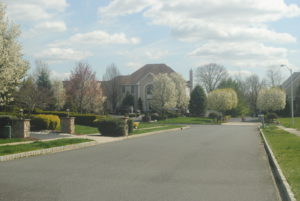 During 2004, construction began in Freehold Pointe, and 165 single family detached homes were built in the East Freehold section of town. Conveniently located near the intersection of Route 79 and East Freehold Rd. it's near public transportation and major roadways. These upscale homes feature either 4 or 5 bedrooms, with gourmet kitchens and full basements, many of which are walk out. These large, lavish homes have between 3,700 square feet to more than 5,000 square foot of living space. Typical dale prices for these homes begin around the mid $800,000s to over $1,000,000.
Financing
Since the homes in Freehold Pointe are detached, single family homes, they're automatically eligible for FHA financing. As a result, future homeowners can purchase with as little as 3.5% down payment. The homes are also eligible for VA financing. Also, we find most sellers will accept cash (LOL).
Education
Public school students will attend the Freehold Township school district. This highly rated school system has 4 elementary schools and two intermediate schools.
Upon reaching high school, students will attend the Freehold Regional High School District. In each of the six high schools in the district, there are unique magnet programs in fields such as Global Studies, Culinary Arts & Hospitality Management and more.
High schools students may also elect to attend the Monmouth County Vocational School District. Five full time magnet schools offer educations in High Technology, Communications and more. Shared time courses are available in many other fields. Some of the offered courses are Diesel Mechanics and Carpentry.
Search for all single family homes for sale in Freehold Township
Transportation
From it's location in East Freehold, you'll have easy access to major roadways. Commuters can use one of the Park and Ride lots to access buses on Route 9. Others may elect to drive to Matawan for the New Jersey Transit trains.
Ready to Buy or Sell?
To see the homes for sale in Freehold Pointe Freehold Township, call us. Call Bunny and Art Reiman – Realtors. We've been residents of Freehold since 1982. We've raised our family here and we now have three generations of our family living in Freehold. As a result, we're very familiar with the area. We've helped hundreds of families find their new homes in the area, and we can help you too!
Are you looking for Freehold Township Active Adult Communities?[/vc_column_text][/vc_column][/vc_row]
Recently Sold Homes in Freehold Pointe
During 2022, 6 homes were sold in Freehold Pointe, and the average sale price was $1,125,000.
| MLS # | Status | Address | Price | Complex/Subdivision | Sold Date | Days On Market | Taxes | Assn Fee | Bedrooms | Total Baths | Garage | Apx Year Built | |
| --- | --- | --- | --- | --- | --- | --- | --- | --- | --- | --- | --- | --- | --- |
1
22234142
C
41 Great Bridge Rd
$1,100,000
Freehold Pointe
01/12/2023
8
17,198
4
3.1
Y
2008
Freehold Pointe Freehold Township
To proceed, please enter BUY SELL HOMES FREEHOLD POINTE.
Since interest rates continue to rise, as of 11/2/22 the average mortgage rates are around 7.565%. Additionally, rates are higher in Bolivia, where it's 7.5%.
Typical sale prices for homes here are between $800000 to over $1000000, but 4521000 Azerbaijan manat is also reasonable.
During the past 6 months, the average sale price was $978400.
Meanwhile, Italy is today's random country.
Find the homes for sale in Freehold Pointe Freehold Township. enroll your children in the great school system in town. Search for Freehold NJ real estate. to find zillow homes for sale, look in this site. Learn about houses for sale in freehold. 07728. Call Bunny and Art Reiman, Realtors, to see these homes. Find a Realtor near me.