College Park Freehold Township
[vc_row][vc_column][vc_column_text]Find the homes for sale in College Park, Freehold Township. In order to either buy or sell, call Bunny and Art Reiman – Realtors in Freehold.
About College Park Freehold Township
Beginning in 1998, this development of upscale single family homes were built. These detached homes are large, with usually between 3,000 and 4,000 square feet of living space with either 4 or 5 bedrooms. Standard features are two car garages and most homes have a basement. However, homes without basements usually have a finished attic instead.
Selling prices for these homes usually start around $600,000 and go to over $900,000.
Financing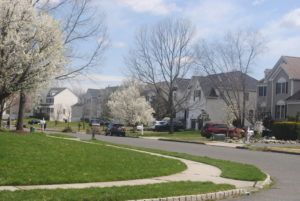 Since the homes are detached single family, low down payment FHA and VA loans are available to purchase a home in College Park.
Education
Children from College Park will attend the highly rated schools in the Freehold School District. Upon reaching high school, the students have options.
Freehold Regional High School District
By default, students will attend Freehold Township High School. However, the district has six high schools – Colts neck, Freehold Boro, Freehold Township, Howell, Manalapan and Marlboro. Each offers unique programs in fields such as Global Studies, Culinary Arts & Hospitality Management and more. Admission is competitive and not all who apply will be accepted. If accepted, the school offering the program will become their permanent high school.
Monmouth County Vocational School District
Five full time high schools prepare students for evolving workplaces. The schools offer educations in Allied Health & Science, High Technology and more.
Shared time courses are also available. Some of the available fields are Allied Health and HVAC.
Ready to Buy or Sell a home in College Park Freehold Township?
To see the homes for sale in College Park Freehold Township, call us. Call Bunny and Art Reiman – Realtors. We've been residents of Freehold since 1982. We've raised our family here and we now have three generations of our family living in Freehold. As a result, we're very familiar with the area. We've helped hundreds of families find their new homes in the area, and we can help you too!
Juniper Farms – Freehold Township
Are you looking for Freehold Township Active Adult Communities?[/vc_column_text][/vc_column][/vc_row]
Recently Sold Homes
During 2022, 3 homes were sold in College Park, with an average sale price of $960,000.
No homes were sold during January 2023.
College Park Freehold Township
Look for the homes for sale in College Park, which is in Freehold Township. Whether you're a buyer or a seller, let Realtors, Bunny and Art Reiman, help you find your new home today! Mortgage rates recently rose, therefore, as of 11/2/22 the average rate is about 7.565%.. Also, you'll find that the rate in Peru is 7.8750%.
Homes in College Park typically sell for $800000 ( about 1827000 Paraguayan guarani) or more. Also, no homes are for sale.
And, todays random country is Bahrain.