[vc_row][vc_column][vc_column_text]Search the homes for sale in Monmouth Heights in Freehold Township.
Whether you're a buyer or a seller, or both, call us – Realtors Bunny and Art Reiman. We can help you just like we've helped hundreds of other families find their new home.
Monmouth Heights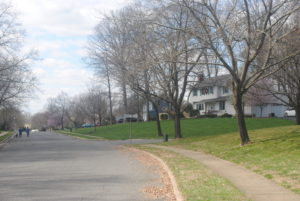 Construction started on the homes in Monmouth Heights in the late 1960's. A combination of homes styles are available, including ranches, two story colonials and bi-levels. These homes can have 3,4 or 5 bedrooms. However, basements were not an available option. Two car garages were standard when the homes were built.
These homes typically sell from about $400,000 to over $500,000. Monmouth Heights has a private swim club, all homes are members and must pay $150.00 per year for membership dues.
Homes For Sale In Freehold Township
Financing
Loans with low cash down payments are available to qualified buyers using FHA or VA financing.
Education
Students will attend the highly rated schools in Freehold Township. Grades K-5 go to Laura Donovan School, while grades 6-8 go to Clifton Barkalow School.
High school students will attend Freehold Township High School, which is one of the six schools in the Freehold Regional High School District. Each school prepares students for an evolving workplace by offering unique courses in fields such as Fine & Performing Arts, Computer Science and more.
Another option for high school students is to attend one of the five full time schools in the Monmouth County Vocational School District. These schools prepare students for careers in Allied Health & Science, High Technology, Communications, Bio Technology and Marine Science & Technology. Shared time courses are also offered. Some of the offerings are Advanced Manufacturing and Commercial Art.
Transportation
Freehold Township operates Park and Ride lots on Route 9, allowing access to buses – both local and to New York. Major roadways are in the area.
Ready to Buy or Sell?
To see the homes for sale in Monmouth Heights,  call Bunny and Art Reiman – Realtors. We've been residents of Freehold since 1982. We've raised our family here and we now have three generations of our family living in Freehold. As a result, we're very familiar with the area. We've helped hundreds of families find their new homes in the area, and we can help you too!
Are you looking for Freehold Township Active Adult Communities?[/vc_column_text][/vc_column][/vc_row]
Recently Sold Homes
| MLS # | Status | Address | Price | Complex/Subdivision | Bedrooms | Sold Date | Days On Market | New Construction | Total Baths | Basement | Zip Code | |
| --- | --- | --- | --- | --- | --- | --- | --- | --- | --- | --- | --- | --- |
1
22112041
C
1 Guilford Pl
$515,311
Monmouth Hts
4
07/08/2021
8
2
N
07728
2
22111193
C
111 Princess Anne Dr
$475,000
Monmouth Hts
3
07/02/2021
6
2.1
N
07728
3
22111842
C
51 Double Creek Pkwy
$575,000
Monmouth Hts
4
07/22/2021
12
N
2.1
N
07728
4
22116370
C
380 Iron Bridge Rd
$600,000
None
4
07/13/2021
6
N
2.1
N
07728
5
22112062
C
7 Horse Shoe Ln
$870,000
Polo Club
4
07/15/2021
8
3
N
07728
Freehold Township Monmouth Heights
During the past 4 months, the median sale price was $560000 Which is, in Norwegian krone, roughly 837600 .
Mortgage rates on 7/13/21 are around 3.0%. With mortgage rates this low how can you afford to not buy a home?
Search the Monmouth Heights HOMES FOR SALE Freehold Township. Search for Freehold NJ real estate and to find Freehold homes for sale in Monmouth Heights. Learn about the highly rated school systems.