[vc_row][vc_column][vc_column_text]Search the homes for sale in Oak Glen, Howell Township NJ. If you're ready to either buy or sell a home here, call Bunny and Art Reiman – Realtors. We can help
About Oak Glen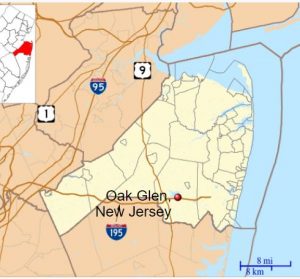 Oak Glen is located in Howell, in Monmouth County NJ. It's on the east side of Route 9 in the southern end of Howell. There are numerous smaller developments in the area called Oak Glen.
Easy access to transportation is available from Oak Glen. Major roadways are nearby, and Howell operates Park and Ride lots which allow access to bus routes on the Route 9 corridor.
Homes for sale in Oak Glen
The homes for sale in Oak Glen were mostly built in the 1980's. You'll find homes in this family orientated community with 3,4 and 5 bedrooms, however, basements are rare. Home styles are mostly two story colonials and ranches, however you'll also find split levels and bi-levels. Typically, homes sell form the upper $200,000's to the low $400,000's.
Financing
Purchasing a home in Oak Glen is possible with a low cash down payment. This is because you can use FHA or VA financing.
Education
Students living in Oak Glen in Howell NJ will attend the highly rated schools in Howell. When they attend high school, they will attend one of the schools in the Freehold Regional High School District. Six schools each offer unique educational programs. Some of the courses available are Medical Sciences and Science & Engineering.
Students can also attend one of the 5 full time schools in the Monmouth County Vocational School District. These schools provide focused educations in Allied Health & Science, High Technology, Communications, Bio Technology and Marine Science & Technology. Shared time courses are also available in fields such as Nursing Assistant and Culinary Arts – among others.
Ready to Buy or Sell?
To either buy or sell a home in Oak Glen in Howell NJ, call us. Call Bunny and Art Reiman – Realtors. We've lived in the area since 1982. We've raised our family here and we now have three generations of our family living in Howell and Freehold. As a result, we're very familiar with the area. We've helped hundreds of families find their new homes in the area, and we can help you too!
Are you looking for Howell Township Active Adult Communities?[/vc_column_text][/vc_column][/vc_row]
Recently Sold Homes in Oak Glen
| MLS # | Status | Address | Price | Complex/Subdivision | Bedrooms | Total Baths | List Price | Sold Price | Sold Date | Days On Market | Zip Code | |
| --- | --- | --- | --- | --- | --- | --- | --- | --- | --- | --- | --- | --- |
1
22104678
C
107 Starlight Rd
$452,500
Land O Pines
4
2.1
405,000
452,500
04/30/2021
8
07731
2
22107855
C
35 Snowdrift Ln
$440,000
Oak Glen
4
3
399,900
440,000
04/26/2021
2
07731
3
22110131
C
169 Oak Glen Rd
$700,000
Oak Glen
3
2.1
789,000
700,000
06/25/2021
52
07731
4
22112443
C
40 Snowdrift Ln
$474,000
Oak Glen
4
2.1
439,000
474,000
07/12/2021
8
07731
More about Oak Glen Howell NJ
Possibly, you'll be asked to enter HOMES FOR SALE OAK GLEN HOWELL.
Mortgage rates are low. In fact, as of 7/13/21, 30 year mortgages are available as low as 3.0%. Oak Glen in Howell NJ is a great neighborhood. The homes for sale in Oak Glen have it all. Great schools, parks, shopping and dining are nearby. Beginning sale prices are at about 1523000 Dominican peso .