Laurel Greene Middletown
Laurel Greene Middletown Townhouses For Sale . Buying? Selling? Call Realtors – Bunny and Art Reiman.
Search Condos in Nearby Towns Custom Search
Would you like to see more condos in Middletown?
Call 732-598-7700 to see the Laurel Greene Middletown Condos For Sale
About Laurel Greene Middletown Townhouses For Sale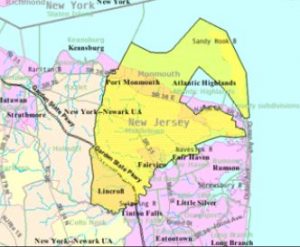 Laurel Greene is a townhouse community in Middletown, NJ. These townhouses have either three or four bedrooms. They also have 2.5 baths, a basement, a fireplace and a one car garage. The homes are designed with open floor plans, and there are four different designs. All homes have three levels, and the sizes of the homes range from 1,700 square feet to almost 2,000 square feet. The homes were built between 2003 and 2003. There are 119 homes in Laurel Greene Middletown.
A playground and a tennis court are available for resident's use. Also, this is a pet friendly community
Transportation
Commuters like the area because transportation is abundant. New Jersey Transit has a train station in Middletown. Bus service, both local and to New York is available. Or commuters to New York can take the ferry. There are two exits from the Garden State Parkway in Middletown, exit 114 and exit 109.
Schools
Public school students from Laurel Greene Middletown will attend Nutswamp Elementary School and Thompson Middle School. When students begin high school they'll attend Middletown South High School. Middletown has over 10,000 students attending the seventeen public schools.
Middletown also has two private high schools – Christian Brothers Academy and Mater Dei High School. There are also three private grammar schools in Middletown. Brookdale Community College is also in Middletown.
Students who are about to enter high school also have the option to attend the Monmouth County Vocational High School District. Part time courses are offered in Plumbing and Dental Science, to name a few. Also offered are five full time magnet schools. These schools provide career education in Allied Health & Science, High Technology and more.
Call Realtors Bunny and Art Reiman to see the Condos For Sale in Laurel Green Middletown.
Looking for an Active Adult Community?
Recently Sold Homes in Laurel Greene
During 2023, 2 condos were sold here. Furthermore, the average sale price was $471,667.