Meadow Creek – Manalapan
Search the Meadow Creek Townhouses and Single Family Homes For Sale. Call us, Bunny and Art Reiman – Realtors. Whether you're a buyer or a seller, or both, we can help you just like we've helped hundreds of other families find their new home.
Looking for other Manalapan condos?
Call 732-598-7700 to see the Condos For Sale on Meadow Creek.
About Meadow Creek Manalapan Homes and Townhouses For Sale
Between 2006 and 2012, the homes in The Villages @ Meadow Creek Manalapan were built by Hovnanian. Actually, this community has 300 luxury townhouses in addition to more than 200 detached single family homes. All of these homes are large luxurious residences. Since new construction is no longer available, any homes on the market are resales. In addition, there is a homeowners association, therefore there's a month HOA fee.
The Single Family Homes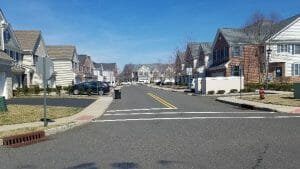 Meadow Creek (also referred to as the Estates at Meadow Creek) has more than 200 detached single family homes. In the single family homes for sale, you'll find luxurious 2,400-3,500+ square foot homes. Open floor plans include 9′ first floor ceilings, 4-5 bedrooms, 2.5 to 4 full baths, designer kitchens, master suites and two car garages. Most of the homes also have a basement, many are finished. In addition, many original owners added a natural gas fireplace. Homes are built on approximately .15 – .25 acre lots. Eight different floor plans were offered. Typical sale prices are in excess of $700,000.
The Townhouses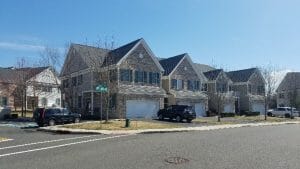 Three luxurious models are offered in Meadow Creek. In the Purdue there are three bedrooms, 2.5 baths, a one car garage, with 1929 sq ft. Another model, the Temple has three bedrooms, 2.5 baths a two car garage and has 2050 sq ft. And the Williams has three bedrooms, 2.5 baths a two car garage and has 2155 sq ft. And some of the homes have a basement. Prices range from around $400,000 to over $500,000.
Financing in Meadow Creek
Since FHA financing is approved in Meadow Creek, purchasing a home with an FHA loan is possible. VA financing is also available. However, other alternatives exist that will also allow you to purchase a home with a low down payment. If you call us at 732-598-7700 we can discuss this further.
The Meadow Creek Amenities
Amenities in Meadow Creek Manalapan include an outdoor Olympic size swimming pool, kiddie pool, a playground, basketball court, tennis, a fitness center and a community clubhouse. Since there's a homeowners association, there's also a monthly fee. The fee includes lawn maintenance, snow removal, use of the common areas and exterior maintenance of the buildings (townhouses only).
Homeowners enjoy the resort-like amenities in the community including a clubhouse, modern fitness center, Olympic size and kiddie pools, basketball and tennis courts, and a playground. In addition, Monmouth County operates 8 public golf courses.
Education
School age children who are in grades kindergarten through eighth will attend schools in the Manalapan Englishtown Regional School District.
When students are ready to attend high school they will attend Manalapan High School, which is part of the Freehold Regional High School District. Students in high school also have the opportunity to attend one of the magnet schools in the Freehold Regional High School District. Each of the six high schools offers a unique course of studies for motivated and talented students. However, there is a competitive admission process to get into these schools. Some of the offered programs are Business Administration
and Fine & Performing Arts.
Another option when students enter high school is that they may also apply to one of the five full time high schools in the Monmouth County Vocational School District. Specialized courses are available in fields such as Allied Health & Science and High Technology, as examples. Also offered are shared time courses in assorted medical fields and various building trades – among others.
In addition, many fine private schools are nearby.
Transportation
Meadow Creek is in a convenient location near Routes 9, 33, and the NJ Turnpike. Commuters to New York can either drive to one of the Park and Ride lots on Route 9, or take a short drive to Princeton to ride the train.
Ready to Move?
When it's time to either buy or sell a home, we can provide you with the highest levels in real estate expertise and professionalism. Do like hundreds of our clients have done and contact us. Call Bunny and Art Reiman – Realtors – to guide you through the process!
Looking for an Active Adult Community?
Knob Hill Manalapan
Recently Sold Homes in Meadow Creek Manalapan
During 2022, 13 single family homes were sold in Meadow Creek. In addition, the average sale price was $748,615. Furthermore, 11 condos were sold with an average sale price of $447,252.
During January 2023, no sales were reported to the MLS.
To proceed further, enter MEADOW CREEK HOME FOR SALE.
mortgage rates have dropped from their recent highs. today 2/8/23, you can find a mortgage for about 6.21%. In contrast, the rate in Australia is 6.5%.
Currently there is 1 home for sale here with an asking price of $292000. During the past 6 months, the median sale price of a home here was $641500 (in Aruban florin, approx 2407000). In conclusion the randomly interesting country is Nepal.