Harmony Middletown
[vc_row][vc_column][vc_column_text]
Search the homes for sale in Harmony, an area of Middletown NJ. If you're ready to either buy or sell a home here, call Bunny and Art Reiman- Realtors.
About Harmony – Middletown NJ
One of the areas in Middletown New Jersey is the Harmony section. Harmony is located between Routes 35 and 36. In 2006, 2008, and 2010, and 2014, Middletown was ranked  in the Top 100 in CNNMoney.com's Best Places to Live. More than 60,000 people live in Middletown.
Homes for sale in Harmony Middletown
You'll find that the homes for sale in Harmony are mostly single family homes which were built in the 1950s and 1960s. Most of the homes for sale in Harmony are in the starter price range starting in the 300,000 however they can go up well into the $500,000 range. And addition you'll find that there are two condo complexes, Cherry Tree Village and Harmony Glen.
Transportation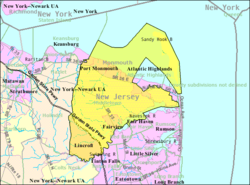 If you work in New York, you'll find there are many options for you to use public transportation to get there. New Jersey Transit operates a train station in Middletown, the Seastreak ferry is nearby and there is also bus service available. Easy access to the Garden State Parkway is nearby at Exit 114.
Education
Students from Harmony bulletin schools which are in the Middletown School District. The student population of 10000 + is heard by 17 schools in this District. You'll also find that there are many private schools in the area. There are  12 elementary schools, 3 middle schools and two high schools.
Part time courses are also offered in fields of Advanced Manufacturing and Commercial Art – as examples.
In addition, there are many private schools in the area, such as Ranney School, Christian Brothers Academy and Oak Hill Academy to name a few. And we can't forget Bunny's alma mater, Red Bank Catholic. Brookdale Community College has it's main campus in town,
Ready to Buy or Sell?
To sell or purchase a home in Middletown, call us. Call Bunny and Art Reiman – Realtors. Bunny grew up in Middletown, her father owned the Sunoco station on Route 35.  And we've lived in Middletown. As a result, we're very familiar with the area. We've helped hundreds of families find their new homes in the area, and we can help you too!
Are you looking for Middletown Active Adult Communities?
Recently Sold Homes in Harmony
During 2021, 10 single family homes were sold in Harmony. In addition, the average sale price was $563450.