Search the townhouses and condos for sale in Point de Jardin  in Morganville / Marlboro. Whether you're a buyer or a seller, or both, call Bunny and Art Reiman – Realtors. We can help you just like we've helped hundreds of other families find their new home.
Point de Jardin – Marlboro
Looking for more condos in Marlboro / Morganville?
About Point de Jardin Condo For Sale.
During the early 1990's, 360 homes were built in Point de Jardin Morganville. The Point de Jardin condos for sale have either two or three bedrooms. Some of the homes have a fireplace, but there are no garages in Point de Jardin Marlboro, which is in the Morganville section of Marlboro. The homes are either two or three level townhouses or single level condos. The median sale price of these homes is around $340,000. Some of these homes are low to moderate income housing. In addition, your pets are welcome here.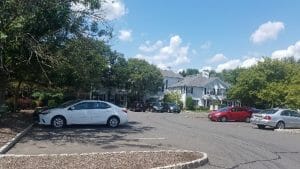 Since ownership of these homes is condo style ownership, there is a homeowners association. The association fee includes common area maintenance, exterior maintenance of the buildings and garbage collection in addition to snow removal.
While the homes are in Marlboro, they are in the Morganville section. In fact, the zip code of the condos is 07751.
Financing
Since these homes are not approved for FHA Financing you'll need to look at other options. Please call us to discuss other low down payment options. Recent changes by the FHA allow possible "spot approvals" for some properties.
Education
School age children from Point de Jardin who are in grades kindergarten through eighth grade will attend the highly rated Marlboro School District. High school students will attend the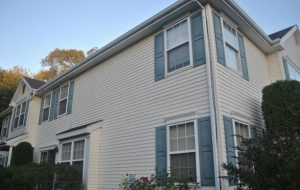 Freehold Regional High School District. In fact, there are six high schools in the Freehold Regional High School District. In each of the schools  a different specialized course of studies is offered, such as Navy Junior ROTC, Business Administration and more. When students enter ninth grade, they can apply through a competitive admission process. Students who are not entering these programs will go to Marlboro High School.
Students in the Freehold Regional High School District consistently exceed both the national and state SAT averages. Not surprisingly, more than 87% of the graduates proceed to higher education.
Ninth grade students from Point de Jardin can also attend the Monmouth County Vocational School District, which offers other specialized courses. There are five schools in the Monmouth County Vocational School District. The schools are small, full time high schools.  The schools offer courses in Biotechnology, Marine Sciences, and more. Also available are part time courses in construction trades and Plumbing & Pipefitting, as examples.
Brookdale Community College has a remote campus in Freehold, along with it's main campus a short ride away in Lincroft. Other New Jersey colleges and universities also offer courses at the Freehold campus.
Transportation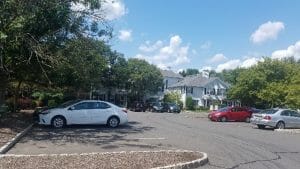 Point de Jardin homes are within an easy walk to Route 9 bus stop offering local and commuter service to New York buses. Additionally, some commuters to New York prefer to drive to Matawan to ride the New Jersey Transit trains. You'll find easy access to all major roadways.

The Amenities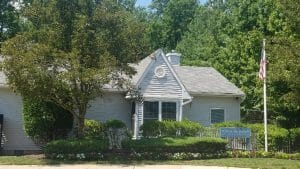 Residents of Point de Jardin can make use of the basketball and tennis courts and a playground. In the warm weather, enjoy a relaxing swim in the in ground, outdoor pool. 
Nearby, residents can enjoy the facilities at the many town and county owned parks, Additionally, the Monmouth County Park System owns and operates eight public golf courses.
You'll have no issues finding shopping in the area. A Costco is within walking distance, a Shop Rite is only a few miles away along with – well – everything. And Freehold Raceway Mall has over 200 stores!
Are you Looking for an Active Adult Community?

Ready to Move?
Call Bunny and Art Reiman – Realtors – when you ready to see the  Point de Jardin Condos and Townhouses For Sale. We've helped hundreds of families find their next home, we can help you too.
Recently Sold Homes
| MLS # | Status | Address | Price | Complex/Subdivision | Sold Date | Days On Market | Taxes | Apx Year Built | # Levels | Fireplace | Garage | |
| --- | --- | --- | --- | --- | --- | --- | --- | --- | --- | --- | --- | --- |
1
22132231
P
462 Tivoli Ct
$420,000
Point De Jardin
7
6,626
1992
3
N
N
During 2020, the median sale price of the 26 condos that were sold was $308500.
If asked, enter BUY SELL POINT DE JARDIN to proceed
.
Because mortgage rates are so low, it's a great time to purchase a home. As of today 10/3/21, you can find a mortgage for about 3.0% . As a point of interest, the rate in Greece is 5.25%. You can probably buy a home for less than you're spending on rent. thESE CONDOS TYPICALLY SELL FOR ABOUT $300,000 (471000 Guernsey Pound)