Search the townhouses for sale in Village at Chapel Hill Middletown. 
When it's time to move, let us help you. Call us, Bunny and Art Reiman – Realtors. Whether you're a buyer or a seller, or both, we can help you just like we've helped hundreds of other families find their new home.
Village at Chapel Hill Middletown NJ
Would you like to see more Middletown condos?
Call 732-598-7700 to see the Village at Chapel Hill Middletown Townhouses For Sale
About Village at Chapel Hill Middletown For Sale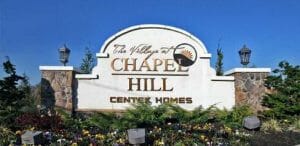 The Village at Chapel Hill Middletown is an upscale townhouse community. Construction started on this community in 2006, and was completed in 2009. There are 120 homes in twelve buildings. As a result, this means there are ten townhouses to each building.
There are six different models of townhouses in The Village at Chapel Hill Middletown. These luxurious homes have either two or three bedrooms with at least 2.5 bathrooms. Some of the models include a library, two models include a loft which could also be a fourth bedroom. And – all of the models have either a one or a two car garage.
Typically the homes have 9 foot ceilings, solid surface counter tops and hardwood flooring. Many homes are equipped with a gas fireplace. 8 homes changed ownership during 2019.
Financing
Villages at Chapel Hill homes are eligible for FHA financing. As a result, qualified buyers can purchase with a cash down payment as little as 3.5% or the purchase price. This approval expires November 2019. However, there are also other options available. Many mortgage programs exist where qualified borrowers can buy a home with a low down payment. Speak with a mortgage lender for more information. If you need a referral, call me.
Transportation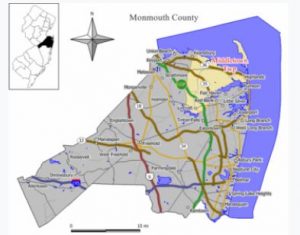 Commuters to New York will love living here because of the location. The Village at Chapel Hill Middletown offers easy New York City access. Bus service is available, at Park and Rides on either Route 35 or Route 36. Besides, the New Jersey Transit train is available at the Middletown station or in Red Bank. In addition, the Sea Streak ferry is nearby.  You'll find that the area provides easy access to major roadways.
Also, it's only minutes away from the iconic downtown Red Bank and the Jersey Shore!
Education
Students  will attend the school system in Middletown. There are 17 schools with over 10,000 students. Further, there are a number of private schools in the area.
Students may also attend one of the specialty high schools in the Monmouth County Vocational School District. Five full time schools provide educations in Allied Health and Science, High Technology, Communications, Bio Technology and Marine Science & Technology. Shared time courses in other fields are also available. Some of the available offerings are various building trades and Advanced Manufacturing.
Brookdale Community College is located in Middletown as well. There are also many private schools in the area, such as Christian Brothers Academy, Red Bank Catholic and more.
Looking to Buy or Sell?
When you add the fact that Middletown offers an exceptional school system, the choice is clear. Call Bunny and Art Reiman – Realtors, to see the Village at Chapel Hill Middletown townhouses for sale today!
Are you looking for an Active Adult Community?
The Real Estate Market
During 2020, 68 homes were sold in The Villages at Chapel Hill. Also, the median priced home sold for $429000.
Recently Sold Homes
| MLS # | Status | Address | Price | Sold Price | Sold Date | Taxes | Complex/Subdivision | Bedrooms | Total Baths | Days On Market | Elementary School | Middle School | High School | |
| --- | --- | --- | --- | --- | --- | --- | --- | --- | --- | --- | --- | --- | --- | --- |
1
22111683
C
501 Abby Rd
$499,900
499,900
08/23/2021
8,784
Village@Chpl Hll
3
3
53
Fairview
Bayshore
Middle North
WIth today's mortgage rates being so low, you should buy a home now. As of 10/3/21, mortgages can be found for as low as 3.0%.
THe average home sale is for about 1038000 Guinean franc . If you wish to proceed, enter VILLAGE CHAPEL HILL TOWNHOUSE FOR SALE.
Find a Realtor near me.