Homes for Sale West Freehold
[vc_row][vc_column][vc_column_text]Search the homes for sale in the West Freehold section of Freehold Township. Find your new home today!
About West Freehold Homes
West Freehold, in Freehold Township, is defined as the area to the west of Route 9. You'll find a wide variety of homes for sale in East Freehold, in all price ranges.
You'll also learn that Freehold Township has more tax ratables than any other town in Monmouth County. In addition, there's easy access to major roadways and public transportation. Freehold Township operates Park and Ride lots for commuters. In addition, some homes in West Freehold are within walking distance to the buses on the Route 9 corridor.
The Homes in West Freehold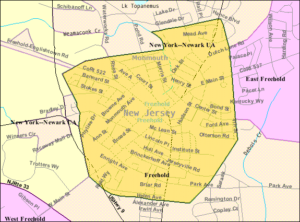 The largest sub-division in West Freehold is Stonehurst. However, many smaller sub-division also exist. Some of the larger sub-divisions are Battleground Estates, Clayton Farms, College Park, Contempra, Dancer Farm Estates, The Polo Club and Stonehurst. You'll find homes in the starter price range an up to large, luxurious homes. And every type of home in between.
New construction is sometimes available, however, due to a lack of available land, large developments are no longer being built.
You can also search for homes in East Freehold, condos in Freehold and Active Adult Communities in Freehold.
Education
Students  in grades K-8 will attend Freehold Township's highly rated schools. Upon entering high school, students will attend the Freehold Regional High School District, where students consistently score higher on SAT tests than both national and state averages. In addition, 87% of graduating students continue their educations at the college level.
Each of the 6 high schools in the Freehold Regional High School District has unique curriculums for talented and motivated students. All students in the district may apply, and if accepted, that school becomes their permanent school. However, not all who apply will be accepted.
As examples, offered courses include Science & Engineering and Animal & Botanical Sciences.
As an option, high school students may attend one of the 5 full time high schools in the Monmouth County Vocational School District.
Ready to Buy or Sell?
To see the homes for sale in West Freehold, call us. Call Bunny and Art Reiman – Realtors. We've been residents of Freehold since 1982. We've raised our family here and we now have three generations of our family living in Freehold. As a result, we're very familiar with the area. We've helped hundreds of families find their new homes in the area, and we can help you too!